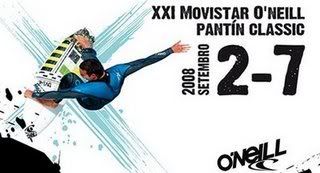 The Movistar Pantin Classic 5 Star WQS runs from 2nd - 7th Sept in Pantin Spain. Adam Melling surfs in Ht 4 of the round of 96.
UPDATE 4.9
Mello won his opening heat last night in 4'-6' stormy conditions and is into the round of 48. Good stuff mate.
UPDATE 5.9
Mello had a win last night in Spain and is thru to the final 24.
He secured a near perfect 9.97 to advance through to Round 5 ahead of current WQS No. 4 Patrick Gudauskas .
"There were a few big ones closing out but the right corner of the beach was offering some better quality waves and I tried to stick there," Adam said. "I had some good ones out there so I am pretty happy but I got pulled over on a few ones and it is kind of heavy when you are below."
"I don't want to put any pressure on myself so I am relaxed and going heat by heat,I just want to go home with a good feeling. I lost in very close heats in the last couple of events and I would like to leave Europe not too bumped."
UPDATE 6.9
Mello 's great run in Spain continued last night when he progressed thru to round 6 , the final 16 , in 8'-10' surf. Go hard mate
UPDATE 7.9
Unfortunately for Mello his run was stopped in round 6. This result equates to 1100 QS ratings points which will bump off his lowest keeper result but will only lift him a place or two in the overall ratings. This was a great time to get thru some tough heats and get some positive momentum in the grinding QS season. Good luck in the next one Mello.
The local time in Spain
Click here to go to Spain