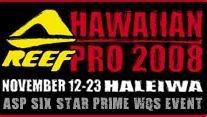 Walshy onto the first Pipe session of the season. Photo Morris
Mello doing the hula Photo ASP
The Reef Hawaiian Pro 6 star prime WQS runs from 12th - 23rd November at Haleiwa. Mello is seeded into the round of 96 Ht 13. Stuey is listed as an alternate. Good luck fellahs.
Haleiwa link here
UPDATE 1
Mello has made a great start to his Hawaiian campaign by comfortably winning his first heat at the Reef Hawaiian Pro with a heat score of 14.83. He surfs next in the round of 64. Go hard mate.
UPDATE 2
Mello has made it thru his round of 64 heat despite having an interference against him. The head judge decided in favour of Jeremy Flores but Mello hung in there til the end and now finds himself in the final 32. Good luck in the next round mate.
UPDATE 3
Mello finished the event in 25th and another solid result for 2008. Good luck in the final event at Sunset.
Forecast-
Local time-