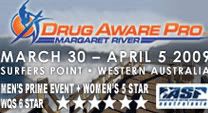 Photos Steve Robertson Surfing Australia
The 6 star prime Drug Aware Pro at Margaret River runs from March 30 - April 5. Anthony Walsh, Owen Wright, James Wood, Stu Kennedy and Adam Melling have all headed over the Nullarbor to have a dig.
UPDATE
Owen Wright had a comfortable win in his round of 128 heat to go thru to the round of 96. A real nail biter for Woody in the round of 128. Holding onto two 3.00 wave scores he was coming third for the entire heat and then two seconds before the hooter he stands up smashes a big hook and a huge floater to score a 7.67 and progress thru. Epic. Walshy was eliminated earlier.Owen surfed late in the day in the round of 96 and had a similar heat to Woody. He was gone for the whole heat and and managed to get thru by the skin of his scrote in the last 2 minutes. You boys need to get your 2 keepers in under 20 mins from here on in eh ?
UPDATE 2
Stu Kennedy had one of those heats when the good ones come in everywhere except for where you are - eliminated. Woody had a solid dig and seemed to be thru but was just knocked right at the end. Mello dominated his heat from the start concentrating on the 6' - 8' rights for a good win. Owen Wright got it back on track with a solid win to move on into the round of 48. Mello surfed the last heat of the day and fully bloody smashed it. He surfed with total commitment in huge windy conditions and was untouchable. Love ya work mate
UPDATE 3
Mello was in complete control of his round of 24 heat and untouchable. One frontside boost he nearly landed was one of the biggest we've seen in competition. Owen had a comfortable win - again. He managed to score one of the best barrels of the event. Bring on the final 16
UPDATE 4
Owen surfed a strong heat but was playing catch up the whole time. A couple of waves would have done the deed for him if he had have completed his final turn. Another big result for the WQS rookie with 9th place and 1925 points. Keep it up grom
UPDATE FINALS DAY
Adam won his quarter and semi final and made the final of the 6 star prime event against Dan Ross from Anga. Mello was winning for most of the final but towards the end he couldn't find the waves with the scoring potential to take the lead.
"It's disappointing not to win but Rossy is a great guy and I'm really stoked for him today" said Melling.
"Having made the finals twice I now really want to win one of these events; my start to the season has been great but there's still a lot of work ahead to qualify for next year's Dream Tour – that's my goal and I have to remain focused because the season has really just started."
This equates to 3063 WQS points and an incredible start to the '09 season. Did I mention that it also means you are now No. 1 in the world on the WQS. Congratulations mate you're on your way.
Local time
Click here to go live