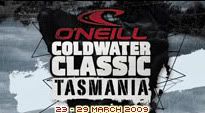 Photos Steve Robertson Surfing Australia
The O'Neill Coldwater Classic runs from 23rd - 29th March in the Marrawah area in NW Tassie.
The event started today in windy 8' waves at Bluff Reef. Woody made it thru the first round while knocking out Tamaroa McComb. Ant Walsh surfs in Ht 21. In the round of 96 we have Woody Ht 4, Mello Ht 6, and Stu Ht 24. Good luck fellahs.
UPDATE 1
Both Woody and Mello had comfortable heat wins and moved on to the round of 48. Anthony Walsh narrowly missed out on progressing in a really close heat. There was only 0.3 points separating 2nd , 3rd and 4th. Bad luck mate. Stu was knocked in the last heat of the round.
UPDATE 2
Mello had a great heat today to progress thru to the final 24 surfers. Woody was eliminated but finished in 25th with 875 QS points to start the '09 season.
UPDATE 3
Mello and Owen Wright smashed it again to win their heats and cruise thru to the final 16. Worst possible result from here is 9th and 1375 WQS points. 2009 is an important year for Adam and Owen only seems to know how to win. Bring it on !
UPDATE 4
Mello never really got going in his round 5 heat and was eliminated finishing in 9th. Owen's still goin' and is into the quarters.
FINAL UPDATE
Epic waves at Bluff Reef for finals day. Owen surfed well in his quarter but couldn't get past Jordy Smith. With one wave scoring a 9 he needed another solid back up and ran out of time. Still a huge result for the junior surfer who takes away 1625 points from this 6 star QS Congratulations.
Click here for the webcast