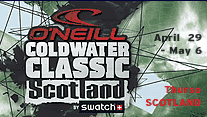 Photo credit: aquashot/aspeurope.com
The O'neill Cold Water Classic WQS 6-Star Prime at Thurso Scotland runs from April 29 - May 6. Adam Melling and Owen Wright surf in the round of 96. The fellahs are heading into the coldest water on the tour , good luck and rug up.
UPDATE May 4
Mello came second in his round of 96 heat and then second in his round of 48 heat to progress thru to the final 24. Owen Wright won his opening heat and is up next in heat 12 round of 48.
UPDATE May 4.5
Unfortunately for Owen Wright he couldn't find the waves and exits the event in 25th place but with 1225 valuable QS points.
UPDATE May 5
Mello showed everyone that he is there for business and won his way thru to the final 16. One wave scored a 9.17 and from there you would want to be Slater to catch him. Adam surfs next in the round of 16 against Marc Lacomare.
UPDATE MAY 6
Adam Melling has won the O'neill Coldwater Classic Scotland defeating Luke Munro in the final. "I was freezing and really tired during that heat but I managed to get a couple of good waves early enough and managed to hold Luke back until the end. I had a great event and was feeling good the whole time. I am just so happy, and very cold." Mello gets the maximum 3500 QS points and is back to No.1 in the ratings.
Click here for the webcast
Local time -