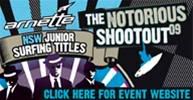 photo Michael Tyrpenou/Surfing NSW
The Arnette NSW Junior Surfing Titles will see the best junior surfers in NSW compete over 5 days across 6 divisions at Forster/Tuncurry in the surf rich Great Lakes Region of the NSW Mid North Coast from July 29 - Aug 2.
Nik Hoskin is in the U18's, Tommy Snellgrove in the U16's and Jake Snellgrove and Michael Wright in the U14's. Good luck groms.
UPDATE July 31
Nik Hoskin is doing well and is into the 2nd round. The U14s have not yet surfed and unfortunately Snelly was knocked early in the U16s.
UPDATE Aug 2
After dominating the U14's for the entire event Mikey Wright won the final and brings home another trophy. Well done grommet. Nik was eliminated in the quarter finals.
Follow this link for the video highlights of the Finals day