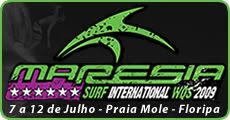 Photos Daniel Smorigo
The 6 star Maresia Surf International at Praia Mole,Florianopolis,Santa Catarina-Brazil starts on July 7 th. Woody starts in the round of 144 and Mello starts in the round of 96.
UPDATE July 8
Woody did just enough to ensure a win in his round of 144 heat. "The contest in South Africa was awesome,I finished in second and helped me a lot in the rankings, a great result for me and we had great waves all week. Unfortunately, I arrived here at 3am yesterday, so I'm very tired and I hope get my sleeping back to normal."
Adam Melling won his round of 96 heat in spectacular fashion with scores of 7.67 and 9.17 to go into the final 48."I feel pretty good,I found good waves, especially my high score 9.17 . I'd like to do well here and try to get back on top, my goal for this year is win the ASP WQS Tour and be on the ASP World Tour next year".
UPDATE July 10
Woody had a close win in his round of 96 heat. Unfortunately both Mello and Woody were eliminated in the round of 48. Next up is the Coca-Cola Saquarema Pro.
Click here to go LIVE
Local Brazil time