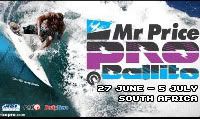 Images © Greg Ewing
The Mr Price Pro Ballito 6 star WQS event runs 27th June - 5th July in Kwa-Zulu Natal, South Africa. Adam Melling, James Wood and Stu Kennedy will all start the event in the round of 144.
UPDATE June 29
Mello survived a tough heat today to move to round 2. Woody had a solid win to progress as well.
UPDATE June 30
Stu failed to progress with a heat total of 4.40
UPDATE July 1
Woody did really well to win his heat with a heat score of 13.73 and has made it to the round of 48. Mello got it all back on track and scored a massive win with 16.34 to move on to round 3 as well.
UPDATE July 2
Mello seemed to take too long to get going in his round of 48 heat and was relegated to 25th - not a keeper. Woody showed determination and stayed busy for his whole heat to pull off a big win and progressed into the final 24. Go Woody !
UPDATE July 3
Woody came 2nd in his round of 24 heat and moves into the final 16 - come on mate !
UPDATE July 4
Woody had another solid win and has moved into the quarter finals - bring it home Woody
UPDATE July 5
Woody made the final and would have won if Huey had have sent in a decent wave. A solid result like this should mean an increase in sponsorship and more importantly a confidence boost. Well done mate! It couldn't have happened to a better bloke. In the expression session Adam and Stu smashed it for some beer money. "This second place is amazing, it's the best I have ever done," "Obviously my strategy wasn't the best but this result is going to help a lot. I didn't expect to do this well and I just ended up on a good roll so I'm stoked and just want to keep the momentum going into the next few contests."
Click here to go to Zulu country
Local South African time: