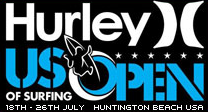 The U.S Open runs from July 18th - 26th. Woody, Adam and Stu Kennedy are all in.
UPDATE July 20
Stu Kennedy has made a good start to the event and is already into the quarter finals of the
Nike 6.0 Pro Junior .
UPDATE July 21
Woody was knocked out first round in a close one overnight - bugger. See ya soon mate.
UPDATE July 22
Stu Kennedy and Owen Wright both won their 1st round heats with ease and move into the round of 96
UPDATE July 23
Unfortunately Adam and Stu were eliminated overnight. Owens next heat coming up tonight is against Rob Machado and Mick Fanning. Good luck fellah.
UPDATE July 24
Owen struggled to find the high scoring waves and was eliminated overnight in the round of 96. Stu didn't make it thru the 1/4 final and finished with a well deserved 9th place in the Pro Junior division. Come on home mate.
Click here to go LIVE !!
Local Seppo time -