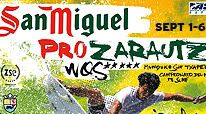 The 5-Star San Miguel Pro will run Sept 1st - 6th in the Basque town of Zarautz.
Adam Melling will start in the round of 96.
Good luck mate
UPDATE Sept 3
A good win for Mello first up puts him in the round of 48.
UPDATE Sept 4
Mello survived a really tough heat in tricky conditions and movesd into the final 24. Later he dominated his round 4 heat to easily move into the top 16. Starting with a 9.17 and backing that up with a 6.60 Mello was untouchable.
photo Aquashot@aspeurope
UPDATE Sept 5
Mello fought hard against Luke Munro in some crappy low-tide Euro beachbreaks but finished 2nd best. Mello's surfing is perfect for the Dream Tour and he will be there next year, he just needs to finish his apprenticeship. Almost there mate .
Local Basque time