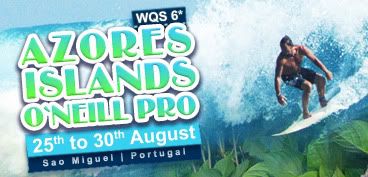 The Azores Islands Pro presented by O'Neill runs from August 25th - 30th. The 6 star event has Stu Kennedy in the round of 144 and Owen Wright and Adam Melling in the round of 96.
Good luck fellahs
Photos Aquashot@Asp Europe
UPDATE Aug 26th
Bad luck for Stuey overnight when he was unexpectedly eliminated in the first round.
UPDATE Aug 27th
In his round of 96 heat Mello was sitting on an 8.10 but looked gone until the final minute when the Iceman scored a 9.37 for a heat total of 17.47.
"I wasn't very confident until I got that last good one because ever
yone sort of had a pretty big score. That righthander was hard to catch and that I thought abou sitting down on the left halfway through the heat but I was stuck on the right and luckily that good one came."
Owen Wright had his wobbly boots on and fell on plenty of waves but still comboed the crew for a massive win, incredible.
Nice work fellahs.
UPDATE Aug 28th
Mello showed everyone that he was there for business but his luck ran out today. Good to see Mello getting busy, but Huey doesn't always love your balls mate.
UPDATE Aug 29th
Owen Wright continued his fine form in the event by easily winning his round of 24 heat and moved into the final 16. He was eliminated in the next round and finished 9th
Click here to go LIVE
Loacl Azores Island time -