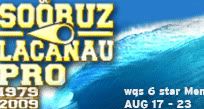 Photos Aquashot@aspeurope
The Sooruz Lacanau Pro 6 star WQS event runs from 17th - 23rd August in France. Stu Kennedy starts in the round of 144. Adam Melling and Owen Wright start in the round of 96. Good luck fellahs.
UPDATE 17 Augus
t
Stu Kennedy made a solid start to his European campaign and is into the round of 96
UPDATE 18 August
Stuey survived a really tight heat and moved into the round of 48. He surfs in the first heat of the round against Yadin Nichol , Tim Boal and Nat Young ( who won't be riding a mal )
Owen Wright had a big win in his first heat and is into the final 48 in Ht 2
UPDATE 21 August
Adam Melling showed the boys he
has his business head on scoring 8.67 and 9.73 - try to beat that. Keep it up Mello and you can skip Brazil mate.
Stuey did his best in crappy, closeout waves. It was a bit of a lottery, you just needed to land that second turn mate.
Owen Wright fell victim to dodgy conditions, especially on his backside. In the last heat of the day Adam had another solid win in the round of 48 and moved into the final 24.
UPDATE 22 August
Adam won a tight round of 24 heat and moved into the top 16 and closer to another great result. He then comboed his way into the quarters with a heat score of 16.50 which included a last minute 8.50.
"You don't want to get too much ahead of yourself thinking about points. It's been a good year so far but there is a still a long way to go and I am focused on tomorrow's finals. It's looking pretty good to qualify at this stage but it is good to have a solid finish to the year as well so it isn't over.". Keep it up mate
UPDATE 23 August
Adam has finished 5th in France. He was winning the heat until the final minutes when Matt Wilko jagged a clean barrel and took the heat . Next up is the Azores Islands Pro 6 star but he has the points now. Good on ya Mello
Click here to go LIVE