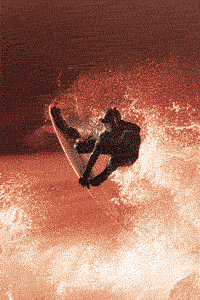 The 6-Star O'Neill Cold Water Classic Canada runs from October 25 through 31 in Tofino, which lies on Vancouver Island, British Columbia. Stu Kennedy, Adam Melling, and James Wood have all packed their beanies and headed into the wilderness .
Stu Kennedy was sensational in his opening O'Neill Cold Water Classic heat and logged the second-highest single wave score of 9.00 on a reeling Tofino lefthander. He then marched on to put his fellow competitors in a combo situation with a 17.00 heat total and advanced through to the Round of 96.
"I thought my waves were just alright, but I'm happy with the scores. I've got great equipment and I'm nice and warm, so I'm stoked."
"I think Canada's amazing. It's such a unique spot, just to come here is great and I'm looking forward to the next heat."
Adam had a good win and is thru to round 3. Bad luck for Stu who only needed a 5.33 to progress but couldn't find the score in a really tight heat.
photos O'Neill

Woody had a solid heat win and is into the round of 48.
Photos O'Neill
Bad luck overnight with Mello and Woody eliminated in the round of 48. The fellahs now cruise down to Santa Cruz for the final CWC event Nov 2 - 8 which has been upgraded to 6 star prime.