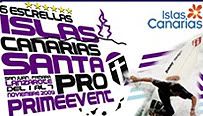 The Islas Canarias Santa Pro 6-Star Prime event on the North coast of Lanzarote in the Canary Islands runs from November 1 to 7. Anthony Walsh has entered hoping to get the lefthand pointbreak of Lanzarote firing. Good luck mate.
Day 1 layday with better conditions on the way
Another layday today
Walshy scraped thru in a tight heat to move into Ht 12 round 2
Bad luck for Walshy overnight, eliminated in round 2.
Local time Canaries