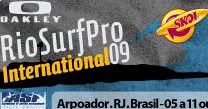 The Oakley Rio Surf Pro runs from Oct 5th - 11th in Brazil. Woody and Owen Wright both start in the round of 96. Good luck fellahs.
UPDATE Oct 9
With 3 consecutive lay days organisers are running out of time. The forecast looks a little better in the next couple of days. Neither Woody or Owen have surfed a heat yet.
UPDATE Oct 10
Woody came 2nd in his round of 96 heat and is thru to the round of 48.
Photos Daniel Smorigo ASP South America
UPDATE Oct 11
Woody had a win in the round of 48 but was then knocked in the round of 24 overnight finishing 19th. Owen also won his round of 48 heat and is into the round of 24 to be surfed tonight.
"It's freaking hot out there. Actually it is really bad to compete like that, with more than three guys in the water with just one peak outside and really close to the rocks." commented Owen
UPDATE Oct 12
Owen suffered the same fate as Woody and also finished 19th. The boys now head to chilly Canada
Click here to go LIVE