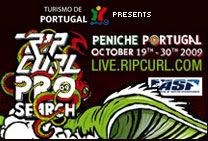 The Rip Curl Pro Search 09 starts on Oct 19th at Peniche in Portugal. This event is running on the new format.Owen Wright has been granted a wildcard in the event so he will surf in round 1 heat 7 against Bam Bam. Expect him to cause some havoc.
Day 2 was another layday but most still surfed. Here's Owen warming up.
Photo Rip Curl

Another layday for day 3.
"We really wanted to run today, but the site structure at Supertubos is too badly damaged today and the conditions at Lagido never materialized," Damien Hardman, Rip Curl Pro Search Contest Director, said.
8 heats from round 1 of the Rip Curl Pro Search was held in the wedging two-to-three foot waves at the backup site of Mohle Leste. Owen took out Kekoa in a casually brilliant display.
"I have been to the Rip Curl Search event in Chile and Bali and that was great.The Search concept allows the guys to go somewhere different every time and they are the best surfers in the world so they can deal with anything. I am really stoked to be put alongside of these guys and be able to compete here in Portugal."
Owen Wright has taken out Slater at the Rip Curl Pro Search - again.
The heat was an extremely tight affair with Slater opening up with solid scores on both his forehand and backhand while his younger opponent waited patiently. Wright's progressive forehand arsenal was put to use in the punchy lefthanders, threading barrels and stomping air reverses to come within striking distance of the champ. Needing a solid score with time winding down, Wright pulled into a lengthy left barrel to score a 7.73 out of a possible 10 to take the lead and the heat win.
"I feel great, it was a really tough heat with not many waves. Kelly got the jump on me and opened up early so I sat and waited to try and get the bigger and better waves. Every time I have watched a heat of Kelly's on the tour the waves turn on so I was stoked to be out there with him and have such good exchanges."
Credit: © ASP/ CI/ SCHOLTZ via GETTY IMAGES
Owen beat Dane Reynolds in a classic heat to go into the quarters. The lead changed many times but with 2 minutes to go Owen needed an 8.08 when he took off on a righthander and scored a super deep backhand pit and sealed it. He scored a 10 in his quarter final against Damien Hobgood but also took a heavy wipeout and ruptured his eardrum. At this stage he doesn't know if he will surf in his semi against Mick.
Owen was informed that it would be a bad idea to surf his semi final due to his injury so he pulled out of the event. That must have been a hard pill to swallow for the most in-form pro surfer of 2009. See you next year