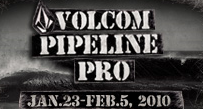 Anthony Walsh is in Hawaii for the Volcom Pipeline Pro WQS. Walshy came 2nd in heat 3 round of 96 to Jamie O with a 15.30 total.
Walshy had a good win in heat 4 round 64 with a score of 15.43 in pumping Pipe pits.
Walshy had a big win in his rd 4 heat scoring an 8.50 and a 6.67. In the quarters he scored one super deep pinching Pipe beast which helped him finish 2nd and move into semi final no.1 tomorrow against Ian Walsh, Jamie O and John John. Good luck mate.
Walshy had a great semi final winning with a 13.33 total above Jamie O in second. Unfortunately he couldn't catch Jamie in the final and finished 2nd overall. This is an incredible result but as a non Hawaiian he had to finish 1st to get wildcard into the 2010 Pipe Masters.
"I knew I was probably only going to get one chance and I got that really good one. It looked like it was going to be a short barrel so I had to really wait as long as I could at the bottom (of the wave after takeoff) to get as deep as I could and get a big score. Either way, it was a 50/50 and it didn't pay off, but second's still really good and I'm stoked."
"I was definitely hoping for first because an international first place was a spot into the Pipe Masters, so second place doesn't cut it. But still, to get second to Jamie O'Brien, he's the best guy out here, so I'm happy with that. He just knows the wave so well. He knows were to sit and today he showed it. He got those two Backdoor ones that actually didn't look like much, and he got the scores.
"I don't really do the WQS but 1500 points is kind of a scorer, so I've got to think about maybe doing a few events. The Australian leg's coming up and there's some good 6 star events there. I'll see how I go in them and make a call from there."
Walshy could be a good bet to score a heap of WQS points during the Aussie leg with the Breaka Burleigh ona right point, Coldwater Classic in thumpin' reefbreak waves in Tassie and Margies 6 star prime where he is a proven competitor. The WQS might have a darkhorse coming their way.
Click full-screen to enlarge