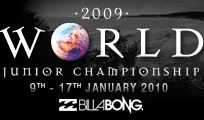 Photo Steve Robertson ASP

Photo Michael Tyrpenou Surfing Australasia

The world's best junior surfers are descending upon the Sydney suburb of North Narrabeen to hunt down the most prestigious crown in junior surfing, the ASP World Junior Title, as the Billabong ASP World Junior Championships prepare to run at the famed beachbreak from January 9 – 17, 2010.
Le-Ba Boardriders are stoked that we have 2 entrants in this major event. Stu Kennedy - 2008 Australasian Pro Junior Champion (round 1 Ht 11) and Owen Wright - 2009 Australasian Pro Junior Champion (round 1 Ht 9) are both among the favorites. Go hard fellahs.
Both Stu and Owen had big wins in their round 1 heats and move straight thru to round 3.
Photo Steve Robertson ASP
Stuey survived a tough heat in tricky conditions against a Brazilian pilot to move into round 4. Owen had a win in a wave starved low scoring heat and joins Stuey in the 4th round.
Stuey pulled off a great win in really dodgy conditions to go into the quarters.He held the lead for nearly the entire heat and finished with his highest score on the hooter. Nice work mate. Stu now faces Jadson Andre. Owen was forced to play catch-up for the entire heat in the undersized conditions and unfortunately was eliminated. Owen finishes in 9th.
Stuey has finished 5th at the Billabong ASP World Junior Championships. Stu was behind for the first half of the heat but then he smashed a right hander to get the highest wave, a 7.83. The Brazilian was a bit rattled and unfortunately for Stu used his priority to shut him out of a semi final berth. Still a great result and a solid start to 2010 for Stuey. Well done mate.
photo Kirstin ASP