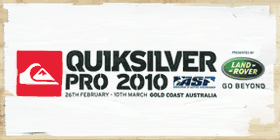 The 2010 Quiksilver Pro presented by Land Rover runs from 26th February through to 10th March on the Goldy. Unless you've had your head stuck in a crab hole, you know that Adam Melling and Owen Wright have both qualified for the 2010 WCT and this will be their first event. If you have the chance, get up there to support the fellahs. Owen surfs in Ht 15 and Adam in Ht 16 of round 1
Good luck Mello and Owen.
Owen Wright had a good solid start in his first official rookie heat on the WCT today. He showed plenty of contest savvy and secured a win in a back and forth battle with Fred Patacchia. Owen finished with a heat total of 14.10 ( 6.33 and 7.77 ) and now moves into round 3. Mello pulled into a couple of bombs at the start of his heat but couldn't find the exit in some heaving Snapper pits. He never really found his rhythm. Mello started to come good in the end with a 4.90 and 6.40 and beat Dingo but still finished 2nd and now moves into sudden death round 2.
Check in here tomorrow morning
to see if the mens round 2 is running
Owen photo ASP/Kirstin
Tsunami day
Bad luck for Adam Melling today after being eliminated in round 2 by Mick Campbell. Even though Mello had the highest scoring wave of the heat ( 8.00 ) he came up 1.17 points short of Cambo.
No joy for Owen today being eliminated in round 3 by Taj. His heat was scheduled for the top of the tide and was highlighted by it's lack of sets. Owen never really built any momentum and had to settle with a 17th
If you can't be there
CLICK HERE TO GO TO THE EVENT SITE