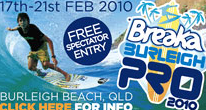 The Breaka Burleigh Surf Pro 4 star WQS runs from Feb 17 - 21 at Burleigh. In the round of 96 James Wood surfs Ht 8 and Stuey Kennedy in Ht 9. In the round of 64 Owen Wright surfs in Ht 7 and Adam Melling in Ht 10. All the fellahs will be looking for a good start to the 2010 competition year, good luck.
In a radical turn of events Nicky Wood at age 40 and 23 years after his historic Bells Beach win, has found his way back into the competitive surfing limelight via a randomly drawn "Win a Wildcard" promotional competition with event sponsor Breaka Flavoured Milk.
When it was confirmed that the competition winner Nicolas Wood was in fact the legendary surfer Nicky Wood - who garnered so much publicity in the 1980's and 1990's, to say organisers were amazed would be an understatement.
Woody had an easy win moving into the round of 64. Stuey fought hard but unfortunately did not progress.
Today was an amazing day for the Le-Ba surfers still in the event. It started with with Owen Wright scoring a huge heat total of 16.17 ( 8.10 and 8.07 )and progressing thru to the round of 32. Next up was James Wood who scored a heat total of 15.33 ( 8.33 and 7.00 ) and beat current world champ Mick Fanning. That has to feel good eh ? To top it off Adam Melling scored the highest heat total of the event thus far with 18.83 ( 8.83 and 10 ),his 10 being the only perfect score in this event. Love your work fellahs. Tomorrow Owen surfs Ht 3, Woody Ht 4 and Mello Ht5. Good luck fellahs
James Wood photo Robertson/ASP Australasia
Owen survived an intense heat in the round of 32 which saw Mick Fanning eliminated. Woody had another big win, in a heat that he led from the start, to progress into the final 16. Mello fought a tough battle against Bede and was unlucky to lose by 0.7 points.
Owen held his nerve under plenty of pressure to record a solid win in his quarter and move into the semis. Woody showed everyone how serious he can be in pressure situations and powered his way into semi-final 1.
Owen took a while to get going in their semi but when he finally did he scored a 10 and 9.77 in 90 seconds, incredible ! Woody surfed brilliantly and was in with a chance til the very end but was eliminated by 0.56 and finishes 5th. That's a great start to the season. Good on ya mate !
In the final Owen could not maintain his momentum from the semis, scoring 7.83 and 6.77, he finished in 3rd. This result in an event where nearly half the top 45 were competing should be a great warm up for the Quiky Pro which starts Feb 27th. Congratulations Owen.