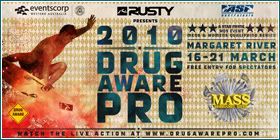 The 6 star prime WQS Drug Aware Pro at Margaret River will be held at Surfers Point March 15 to 21. Anthony Walsh is in the Trials. Stu Kennedy surfs in Ht 10 and James Wood in Ht13 of the round of 128. Owen Wright surfs in Ht 7 and Adam Melling surfs in Ht 23 of the round of 96. Good luck fellahs.
Anthony Walsh surfed thru 6 rounds of trials and came 2nd in his round of 128 to move into the round of 96 heat 12. Stuey and Woody both surfed well and also finished 2nd and will be up again in the round of 96.
Owen blitzed his heat with a total of 17.10 which included a really nice barrel on his first wave for an 8.67. Walshy couldn't find the good ones and bowed out. Stuey put in a commanding performance to win his heat with a 16.44 total. His 8.77 knocked off Owen for the highest scoring wave of the day. Woody couldn't buy a wave and was eliminated.
Mello put together a solid performance and notched up a heat win to join the fellahs in the round of 48.
In the round of 48 Owen had a nightmare heat. An early wipe out and a paddle hassle was compounded when he snapped his board. Owen had to swim over to Rob who was caddying and make his way back out to the take off area. He managed to get a mid range score and lost his board again briefly. With time running out couldn't find the score needed and bowed out in 25th.
Unfortunately for Stu, he was in a heat where the world champ went ballistic and lifted Nic Mushy to another level. Stuey surfed well but couldn't match the fellahs in those conditions today. Stu also finishes 25th with 1253 ratings points.
Mello stayed busy ,catching plenty of waves, but could not find the right waves with scoring potential. Adam is definitely keen to accumulate some ratings points, as was shown by his strategy to catch a few insiders in the radical conditions but he was caught out of position when the sets came and was eliminated.