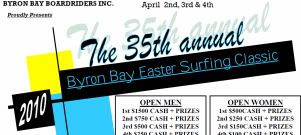 The 35th Annual Byron Easter Classic is running over the Easter weekend at Broken Head. Heaps of Le-Ba crew are up there chasing a result. Updates to follow during the weekend. Good luck fellahs.
UPDATE April 4
Congratulations Marcus Aboody winner of the 2010 Byron Easter Classic.
Marcus has looked the goods over many years at this event but this time he ticked all the boxes.
Brains came from behind late in the final to win over former WQS surfer Yerin Brown, ex top 44 pro surfer Danny Wills and WQS ripper James Wood .
Marcus has been fairly quiet in the contest scene lately but this win against such a quality field has shot him back into prominence in the competitive arena.
Woody scored the best wave award with a 10-point ride and also took out the best tube award.
OPEN MEN
1ST MARCUS ABOODY (16.97)
2ND YERIN BROWN (16.30)
3RD DANNY WILLS (12.83)
4TH JAMES WOOD (6.50)
MASTERS (OVER 40 YEARS)
1ST CHRIS HOMER
2ND SCOTT MYERS
3RD STEVE KEARNEY
4TH SCOTT WHITBY
CADETS (UNDER 16 YEARS)
1ST TOMMY BOUCAT
2ND JAMES YOUNG
3RD SAM PONCINI
4TH DANIEL HOSKING
FLEA BOYS
1ST DEXTER MUSKINS
2ND KIANI SHAKEA
3RD ZACK WHITEMAN
4TH JACK MURRAY