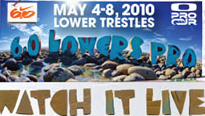 The PRIME 6.0 Lowers Pro is on at the iconic cobblestone pointbreak of Lower Trestles from May fourth through eighth. James Wood and Stuey Kennedy are both in Ht 5 round of 128. Owen Wright will surf in Ht 16 round of 96. Good luck fellahs.
Stu Kennedy had a perfect start to the event with a convincing heat win. He surfs again in the round of 96 Ht 7. Bad news for Woody who couldn't find the right one to progress. Bugger.
All photos Hilleman
Stu had another good heat in round 2 and moved into the final 48 (round 3 Ht 3 ). Owen Wright had a huge win scoring a 14.50 heat total to cruise into round 3 Ht 8.
Stu had a really close heat but was eliminated by 1.50 points. He finished 25th and grabbed 1253 points to keep his great year on track to make the mid year CT cut. Owen had another blazing win in the round of 48 and then went completely mental in the round of 24. His heat total was 17.27 with scores of 7.77 and 9.50. The 9.50 featured an incredible series of progressive aerial maneuvers that left the webcast crew stunned. Good stuff
Unfortunately Owen went down by 0.73 to a rejuvenated AI in Ht5 Round of 16. He finishes in 9th with 2057 points.
Check out heats on demand below
LE-BA
HOT
HEATS
Day 2 Rd 128 Ht 5 Stuey/Woody
Day 3 Rd 96 Ht 7 Stuey Ht 16 Owen
Day 4 Rd 24 Ht 5
Local time in the U.S