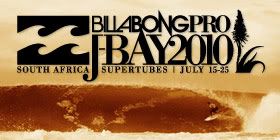 Event No. 5 of 10 on the 2010 ASP World Tour, the Billabong Pro Jeffreys Bay starts Thursday July 15th. The swell forecast is looking good for an early start. Adam Melling will be looking for a sold result to slide himself into the top 32 before the mid year cut. Mello will kick off his campaign in round 1 heat 1 against Taylor Knox and Luke Munro. Owen Wright heads into this event in a comfortable position ranked 11th in the ASP World Title race but will also be looking for a solid result to settle into the top 10. The big O surfs in heat 16 of round 1 against Trav Logie and Drew Courtney. Good luck fellahs
Good news eveyone, Mello has scored his first round 1 heat win on the WCT. Adam finished with a heat total of 12.17 ( 7.00 & 5.17 ) to win from Taylor Knox and Luke Munro in perfect 4'-5' waves. Good on ya mate . Owen comprehensively destroyed his opponenents with a heat total of 15.56 ( 8.73 & 6.83 ). Web commentator Luke Egan was amazed and said that Owen displayed the best Goofy surfing in round 1 by a long shot. Good luck in the 3rd round fellahs and go hard.
Photos ASP/Cestari
A massive win for Owen in round 3 today. Owen went to town in the clean conditions finishing with a heat total of 17.00 ( 9.00 & 8.00 ). He is up next in round 4 heat 2 vs Jordy . More to come ...
Photo ASP/Kirstin
UPDATE July 17th
Mello put together a great performance , in a heat when he needed it most, in round 3. Adam led from the start and finished with a total of 16.06 ( 8.33 and 7.33 ) leaving Bobby Martinez needing a 9.06. Mello now heads into the 4th round , another heat closer to requalifying and also silencing the doubters. Congratulations mate and good luck. Owen started his heat against local boy Jordy with a 7.93 and followed it up with a 7.93. He could have almost won any other heat in round 4 except this against Jordy who moved into the no.1 spot on the ASP with a heat total of 17.87 . Owen was rated 11th before this event but should be heading into the Chopes mid year cut-off a happy bloke.
UPDATE July 18th
Mello surfed a great heat in round 4 scoring his highest total on the WCT - 17.07 ( 9.00 and 8.07 ) to defeat Dusty Payne and cruise into quarter final 4 vs Damien Hobgood.
photo ASP/Kirstin
In the quarter Adam put Hobgood under pressure from the start. He built a solid lead and never looked like losing it. With a heat total of 16.43 ( 8.83 and 7.60 ) the Hobgoblin was comboed and Mello moved into the semi final vs Taj.
In the semi Adam put the pressure on again and Taj ran out of time. Mello finished with a heat total of 14.00 but to see his confidence grow was bloody awesome. The mid year cut off just became irrelevant.

Mello came 2nd in a wave starved final against world no.1 Jordy. Huey didn't provide many opportunities for Mello to have a go but that's the way it goes sometimes. The most important thing is that he is safe now from the mid year cut and has shown the world that he is fully capable of producing world championship tour surfing. Le-Ba couldn't be more proud and Robbie would be stoked. Congratulations to the Melling family who kept the faith. Good on ya Mello.

From the ASP below -

Melling's "Cinderella" climb to the Finals was nothing short of sensational. Rated a lowly 41st on the ASP World Title Race rankings heading into Jeffreys Bay, the 2010 ASP Dream Tour rookie powered his way through five rounds of competition before coming short in the Final. His Runner-Up finish sees him bumped up to ASP World No. 19, well inside the safety zone for the dreaded mid-year field reduction.

"The ocean didn't cooperate with me in the Final so that's a shame but I couldn't be happier.We had amazing waves and to get the best result of my career is huge. I came into Jeffreys with a long road ahead if I were to make the mid-year cut-off, and now that I'm 19th, I feel like I have a bit of a buffer heading into Tahiti. I worked really hard to get here and I want to stay here."


Photo ASP/Kirstin
Click here to go LIVE