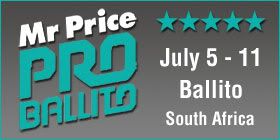 The Mr Price Pro Ballito 5 star WQS evevt runs at Ballito in the KwaDukuzu region of South Africa , July 5th - 11th. Anthony Walsh has overcome his recent bout of cerebral malaria and ignored doctors advice to have a crack at the points and cash. Good luck mate.
Walshy had a great start to the event in the round of 96 with a 14.43 heat total. He scored a huge win with 2nd place only scoring a total of 8.66. Good stuff.
In the round of 48 Walshy backed it up with another big win to progress to the final 24. In the next round Walshy was forced to surf in difficult side-shore conditions. He nearly landed a few big backside airs and in the end of the heat needed a 2.60. In the last minute Anthony grabbed a small righthander and belted it once followed by a bit of grovelling. The judges gave a 2.10 and Walshy finished with a 17th.
photo: Kelly Cestari
Local time in South Africa -