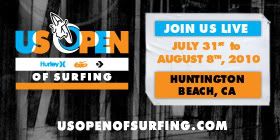 The $250,000 2010 US Open of Surfing presented by Nike 6.0, Hurley and Converse runs Aug 2-8 at Huntington Beach, California. Last year Hurley stunned the surfing world by jacking the prize-money for 1st to $100k US. This year 32 surfers from the ASP World Tour will be chasing Hurley's cash and the 6500 points. James Wood will surf in Ht 1 of the round of 128 ,Adam Melling ( ASP World Title ranked 19th ) surfs in Ht 19 and Owen Wright ( ASP World Title ranked 11th ) surfs in Ht21 in the round of 96. Good luck fellahs.
Unfortunately Woody was eliminated in the round of 128 in small inconsistent conditions. Bugger.
Mello's heat will be up first when action resumes late tonight.

Anthony Walsh is competing in the Relentless Boardmasters 5 star WQS in England at the moment. He won his round 1 heat and surfs this arvo in Ht 10 of round 2
Click here for the Relentless Boardmasters LIVE
Adam Melling had a good win in the round of 96 with a heat total of 14.50. Owen also had a big win with a 13.27 total. In the round of 48 Mello was holding a 7.00 but with 30 seconds to go was sitting in 3rd needing a 4.78. Dion Atkinson was in second and trying to keep Adam off the final wave but incurred an interference. Adam finished the ride and didn't get the score he needed but due to the interference managed to progress behind Dane Reynolds. Owen went to town in the round of 48 with his trademark frontside air reverses and finished with another big win and a total of 15.34.

Over in England Walshy had another solid heat win and moved into round 3
Click here for the Relentless Boardmasters LIVE
Adam and Owen were both eliminated in round 4 and finished in equal 17th with 1542 points.