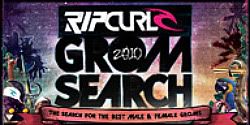 Rip Curl GromSearch presented by SNICKERS Coffs Harbour event runs October 5th - 8th. A large contingent of Le-Ba groms have hit the road chasing glory in the 16 and Under Boys, 14 and Under Boys, 12 and Under Boys divisions. Good luck fellahs. More to come...
Day 1 of the Rip Curl Gromsearch Coffs Harbour ran @ North Wall Jetty yesterday ( Tuesday 5th ) after the little ECL smashed the area and dropped 200mls in 6 hrs. The jetty is the most protected break around Coffs and organisers called the comp on in 3' - 4' caramel peaks.
Tom Snellgrove was an early casualty in round 1 of the 16's. Sam Morgan progressed thru round 1 but was eliminated in round 2. Bad luck groms.
Today The 14 and under boys division kicked off proceedings with Jake Snellgrove locking in a two wave total of 13.93 points out of 20 to narrowly miss the highest score of the round. In round 2 Jake came 2nd and progressed to round 3 with a heat total of 10.40. Jake is up next in the quarter finals heat 4. Mikey Wright was a no show for his heat as he was still in transit from the Quiksilver King of the Groms event in France.
In the U12's Jack Murray was a first heat casualty and moved into the requal. round but was knocked again. Every heat is a learning experience and he will only get better from his time here. Luke Condon surfed a solid round 1 heat , finishing in 2nd and he moved into quarter final 1.
In the final heat of round 1 Zac Wightman had a big win and Zak Condon finished 2nd. ZW surfs 1/4 final 3 and ZC surfs 1/4 final 4.
On day 3 both Zak and Luke Condon finshed in equal 13th. Well done groms. Zac Wightman dominated in the quarters and moved into the semis. In the U14's Jake Snellgrove went down in a tough quarter final and finished in 13t
Zac Wightman has continued his winning streak by taking out the U12's.
Photo Condon