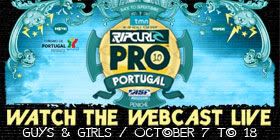 Rip Curl Pro Portugal 2010 runs at Peniche, Portugal Oct 7th - 18th. Last year Day 3 opened with carnage. The contest site at Supertubos had been broadsided all night by a raging Atlantic and was deemed destroyed at first light by the contest organizers. The "Storm of the Century" is what locals were calling it. Looks like it may happen again.
"A very powerful storm system looks set to form in the Atlantic bringing huge swell to European shores," Ben Freeston of Magicseaweed said today. "If it arrives as currently forecast it'll be one of the biggest October swells in over a decade of records."
All of the models are agreeing that something big and unusual is brewing out there in the Atlantic, and that it will begin to rear it's ugly head come Thursday – the first day of the Men and Women's waiting periods. At this point it's hard to tell just how tricky it's going to get, as far as the winds are concerned, but everyone is keeping a close eye on this potentially epic swell development.
To have a look @ the forecast for yourself click here for the Magic Seaweed charts
Adam Melling and Owen Wright are the Le-Ba Storm Riders at the event. Good luck fellahs.
Small surf forced event organizers to call a lay day for the Rip Curl Pro Portugal today. The forecast for tomozza is 20' and breezy. When the event starts Adam surfs in Ht 4 vs Jordy Smith and Gabe Kling. Owen surfs Ht 8 vs Chris Davidson and Roy Powers.
Photo Cestari/ASP
Lay day for the men. Magicseaweed are calling for a massive swell system to move into the region in the next 24 hours, with waves up to 20'.

Photo Cestari/ASP
The first 9 heats of round 1 ran in 4'-6' stormy conditions at Supertubos. Adam Melling had one good wave but snapped his stick and couldn't find a back up so he moved into round 2. Owen Wright had a solid win and moved straight into round 3.

Photo Cestari/ASP
No luck for Mello in round 2 when he was eliminated by 0.29 points by Davo.

Owen went one step closer to becoming 2010 Rookie of the Year with a massive heat win , collecting this season's fourth Perfect 10 for a fins-free turn straight into a full rotation mute grab on his forehand.

"I had actually creased my board on the wave previous and I was really just coming in to change boards. I was really just going for broke and the section presented itself. I actually got more height than I thought I would and rotated out of it clean. I was pretty psyched when I heard the score."

Amazing ! Owen surfs next in round 4 heat 4 vs Jadson Andre and Jordy Smith.



Photo ASP / Cestari
Owen had an amazing aerial battle with Jadson Andre and Jordy Smith but in the end the South African got the nod with a giant frontside air 360. Check out the footage below. Owen moved into round 5 Ht 3 vs Travis Logie
Despite being really crook Owen smashed Logie ( 13.40 to 9.73 ). In the quarter final, with waning energy levels, Owen still surfed great and only went down to Jeremy Flores by 0.5 points. This 5th place sees Owen sitting at 7th on the ASP World Title ranking and looking really good for the Rookie of the Year. Well done mate
Local time in Portugal is -