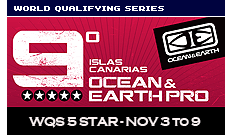 ASP 5-Star Islas Canarias Ocean and Earth Pro runs November 3rd - 9th @ the righthand barrels of El Confital, Gran Canaria. Stephen Walsh surfs in Ht 17 in the round of 96. Good luck mate.
14 heats of the round of 96 ran today so Walshy will be in the 3rd heat of the day when competition resumes.
Walshy had a slow start but came home with the goods and moved into the round of 48.
Walshy surfed really well and put together a solid set of scores to progress thru to the round of 24. In round 3 he couldn't find the right waves and finished the event in 17th. Good on ya mate.
Click here to go LIVE
The local time in the Canaries is -