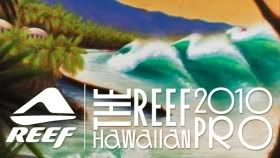 Reef Hawaiian Pro, first jewel in the Vans Triple Crown, runs November 12th - 23rd at Haleiwa, Oahu. The forecast is calling for a Solid NW swell rapidly building into the North Shore on Sunday the 14th and peaks over Sunday night before starting to back down Monday the 15th. Expect plenty of well overhead surf for Haleiwa Sunday through at least Tuesday with double to triple overhead sets (10-15'+ faces) showing late Sunday and Monday. Furthermore, excellent conditions are likely during this swell with light ESE trade winds. More good NW groundswells are lining up for the middle and second half of next week as well.
Stu Kennedy starts in the round of 96 and Adam Melling kicks off his Hawaiian campaign in the round of 64. Anthony Walsh surfs in the round of 128. Good luck fellahs.
Lay day today.
The event is off at Haleiwa today due to the Andy Irons Memorial being held today on Kauai.
The first 13 heats in the round of 128 ran today. Walshy will surf in the 2nd heat of the day competition resumes.
Walshy had a solid win to move into round 3 in much smaller surf today.
Photo Kirstin/ASP
No luck for Stu Kennedy today when he was eliminated in tricky conditions in round 3. Walshy had a solid heat but came up short and was also eliminated in round 3. In the Cholos Womens Hawaiian Pro Tyler Wright was ripping all day and it took Steph Gilmore to stop her taking the title. Tyler finished 2nd with a heat total of 13.90 ( 7.07 and 6.83 ). Congratulations Tyler
Photo Cestari/ASP
Adam put on a display of powerful and radical surfing to win his round of 64 heat with a 7.00 and 7.77. Well done mate. Mello surfs next in Ht 8 in the round of 32. The forecast is calling for the next swell to hit Sunday (Monday in Australia).
In the round of 32 Adam held on for a tough win in a scrappy wave starved heat. In the quarters the heat finished with Joel Centeio 11.27, Granger Larsen 11.00 and Mello 11.00. Adam Finished 3rd on a countack in another wave starved heat. Mello finished the event in 9th with 2057 points and currently will still requalify sitting at 5th on the ASP Mens World rankings after the 22 double qualifiers are taken out.
Photo Kirstin/ASP
Local time in the Islands is -
Click here to go LIVE