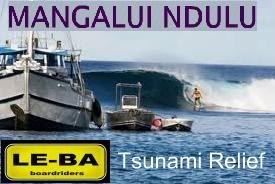 Rod Steeles and Terry Chandler are coordinating a relief appeal to aid families affected by the recent tsunami in Indonesia. The Le-Ba boys are going to the affected area to meet up with the skipper of the Mangalui early in December. Matt Cruden has nearly 2 decades of experience in the Mentawai Islands and will deliver all donations to the local communities most in need. If you have ever surfed the Mentawais , or ever dreamed of going there, dig deep and pull out some cash ( or donate clothing ) for the disaster survivors. Every dollar donated is guaranteed to help the most needy while cutting out the middle management usually involved in conventional relief operations. Please donate @ Le-Ba presentation day in the marked donation container, or go around to Rod's place.
SurfAid Mentawai Tsunami report - 3 Nov 2010
from
SurfAid International
on
Vimeo
.