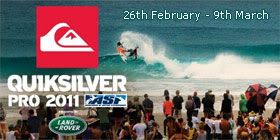 Quiksilver Pro Gold Coast presented by Land Rover will take place from February 26 through March 9, 2011 at Snapper/Kirra/D'Bah. Adam Melling and Owen Wright will both be in the event looking for a good result to kickstart their 2011 World Championship season. Owen surfs in Round 1 Ht 7 vs Taylor Knox and Dusty Payne. Mello surfs in Round 1 Ht 11 vs Chris Davidson and K.P. Get up there to support your mates if you can, if not click the LIVE link below or watch live on ONE HD at home. Good luck fellas.
Owen had a great start to the event with a solid heat win. He opened up with a 7.00 and backed it up with a 5.83 in onshore 3' Snapper peelers. Go to round 3 mate.
Mello worked hard to put together a round 1 win in the bumpy onshore conditions. With scores of 6.73 and 4.67 he edged KP out by 0.27 to book a berth in round 3. Good on ya mate.
Meanwhile in the Roxy Pro Tyler Wright dusted Steph yet again with a 17.96 heat total ( 8.93 and 9.03 )to move straight into round 3.
Photo Kirstin ASP
The event was on hold today but Mello and Mikey Wright were both smashing some lumpy Snapper walls in expression sessions.
Update Feb 28th - Mar 5th
Lay day today. Quik Pro Sunday ??
Quik Pro Round 2 on today.
Both Owen and Adam had a bad day at the office today. Neither of the fellas could find the longer waves to link up to the inside bank and were eliminated from the event to finish in equal 13th with 1750 points in the bank. Better luck in the upcoming comps fellas. In the Roxy Pro Tyler delivered an incredible display showing eveyone the future of womens surfing to smash Pauline Ado and cruise into the quarter finals where she will meet Silvana Lima
An incredible day of womens pro surfing today @ the Roxy Pro Gold Coast. Many are calling it the best display from the girls ever. Tyler had a huge win in the quarters that included her new signature move - the layback carve. She went on to fight for another win in the semis. In the final against Carissa Moore she was fighting from the start after the Hawaiian opened up with a 9.17. Tyler started slow but increased her scores with every wave slowly building towards a total that would be enough for the win. Tyler took a bomb from behind the rock at Snapper and pulled into a sick barrel only to be faded by Carissa , who had priority. Tyler still emerged from the pit but had to concede the wave. If she had been able to continue that wave a perfect 10 would have been inevitable. Well done Tyler in your first event, 2nd is pretty bloody good mate. Check the videos below
Click here to go to the event website