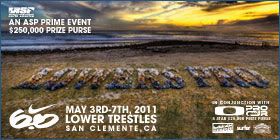 2011 ASP PRIME Nike 6.0 Lowers Pro holds a waiting period from May 3rd - 7th at Lower Trestles in San Clemente, California. Adam Melling, ASP ranked 24th and Stu Kennedy, ASP ranked 76th will start in Ht 22 round of 96. Good luck fellas.
Mello finished 2nd in his first heat and progressed into the round of 48 Ht 12. Unfortunately Stu was involved in an interference and was eliminated.
Mello progressed thru a fairly tight round of 48 heat but was then eliminated in the dying seconds of his round 3 heat to finish 13th with 1200 points.
Local U.S time -