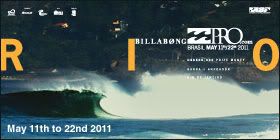 Billabong Pro Rio runs from May 12th to 22nd at Barra da Tijuca,Rio de Janeiro,Brazil. Owen Wright surfs Ht 1 against Heitor Alves and Bobby Martinez
and Adam Melling surfs in Ht 2 vs Ace and Kai Otten. Good luck fellas.
After monitoring conditions throughout the morning, event organizers have called competition off for the Billabong Rio Pro today due to six foot closeouts at the main event site of Barra Da Tijuca.
Laydays
The event finally got underway in solid onshore conditions at the lefthand pointbreak of Arpoador. Owen won the battle of the goofies to go straight into round 3. Mello finished 2nd in a really close heat and will surf in round 2.
Mello put in a deadly performance to eliminate Alejo Muniz and matched the highest wave score of the event with a 9.00 .

"The cut is lingering all year, so it always feels good to get heat wins. We've got the two cuts in one year and it's on everyone's mind. It can throw you off or you can also use it to fire you up a bit.".
Owen had a win over T Knox in a close round 3 heat. In round 4 he had a blinder and finished with a heat total of 16.67 and moved straight into the quarters. Unfortunately Mello went out in round 3 to finish 13th.
Photos ASP
Owen went down to home town favorite Adriano de Souza, in a heat he looked to have clearly won, by 0.13 points - ouch ! Watch the video below to see the Brazilian score 8.23 for a floater. Congratulations on another great result mate.
Local time in Rio