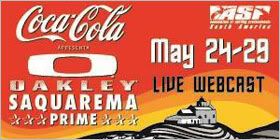 The Oakley Saquarema Surf Pro International presented by Coca Cola kicks off 24th May 2011 at Itauna, Saquarema in Brazil. Stu Kennedy surfs in Ht 5 and Adam Melling is in Ht 21 in the round of 96. Good luck fellas.
Layday
Stu progressed into round 2 with a solid heat total of 14.94 ( 7.17 and 7.77 ). Only the first 11 heats were surfed today.
Mello had a good win in round 1 and surfs next in Ht 11 round of 48. Stu was eliminated in a close heat in the small conditions and finished 37th.
Layday today. The forecast shows a huge swell coming into Saquarema this weekend.

"It´s a strong south swell. It's showing 12, 13 and 14 second periods with sets up to 8-10 feet. The only thing that might cause concern is the strong winds as Saquarema can hold large swells, so we might have some good surf."
Mello had wins in both the round of 48 and 24. The next round was a "no losers round " and he couldn't buy a decent wave.
"It's really tough. It kept getting bigger throughout the day and I didn't even know what size board to use."
Adam surfs next in Ht 3 round of 12 vs Adam Robertson.
Due to extreme conditions, onshore winds and waves in the 15-17 foot range , the ASP World Prime Oakley Saquarema Prime presented by Coca-Cola will be postponed until tomorrow. (
In the round of 12 Mello ran out of time and luck in the massive conditions and finished the event in 9th. 2400 rating points should ease the pain.
Local time in Brazil -