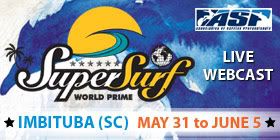 Super Surf International at Imbituba, Santa Catarina, Brazil runs May 31st - Jun 5th. Stu Kennedy starts in Ht 17 in the round of 96. Good luck mate.
The first 16 heats ran on day 1 so Stu will surf in the first heat of the day when competition resumes.
Stu had one keeper but unfortunately couldn't find a decent back up and dipped out. Bad luck mate.
Local time in Brazil -