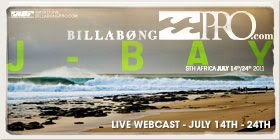 Billabong Pro Jeffreys Bay runs from July 14 – 24 in South Africa. Owen Wright and Adam Melling sit at No. 8 and No.25 respectively on the ASP Men's World Ranking. Good luck fellas.
Layday. When the event starts Mello surfs Ht 5 vs Jordy and a wildcard. Owen surfs Ht 8 vs Wilko and Kerrzy.
Mello surfed really well in what was probably the toughest heat of round 1 but finished in 3rd and will surf in round 2 Ht 9 vs Brett Simpson. Owen did his best in the dodgy conditions but was always going to struggle as a goofy against side shore winds at Jeffreys. He surfs next in round 2 Ht 5 vs Freddy P
Lay day today.
Owen had a great win in a very inconsistent heat that featured a restart. He came from behind in the last 30 seconds to move into round 3. Love ya work mate. The event was called off after Ht 6
An overnight drop in swell has prompted event organizers to call a lay day for the Billabong Pro Jeffreys Bay in hopes of capitalizing on improved conditions projected over the next several days.
Mello put Brett Simpson on the ropes in the first 2 minutes with a 8.27 and backed it up with a 5.73 to take a good win and move into round 3. Good stuff.
Lay day today. Mello surfs in heat 9 vs Owen tomozza.
The match up between Mello and Owen was always going to be a hard one to watch for Le-Ba surfers. Owen was ripping and put in one of the best goofy foot performances of the round. Mello was surfing super fast, laying down some radical turns and looking to have the upper hand for one of the closest heats of the round. In the final minutes Owen was chasing a 6.77 and caught a great wave all the way thru to the inside. Unfortunately while Mello was trying to get out of Owen's way their boards came together as Owen was coming down for his final move. The judges took a long time to work out if there was an interference . Not the way you want to see a heat finish but Mello took the win. Good luck in the next event Owen.



Mello surfed an incredible heat vs Mick and Joel and was probably underscored but Joel got the nod with some slo-mo foam bounces.
Adam was bundled out of the event by Alejo Muniz by 0.1 points and finished 9th
Local time in Seth Efrika -