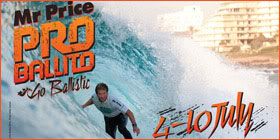 Mr Price Pro Ballito runs July 4 - 10 in South Africa. Adam Melling starts in Ht 10 and Stu Kennedy in Ht 15. Good luck fellas
Mello couldn't find the longer rides in the deteriorating conditions and was eliminated in the round of 96.
Stu surfed a great first round heat in ordinary conditions and was only just over taken by J Dub in the final minutes. He surfs next in Ht 7 in the round of 48.
Stu looked to be well positioned to progress in the semi out of control conditions but he was relegated to third in the final minutes.
Local time in S.Africa