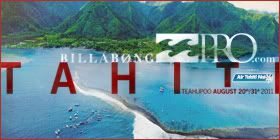 Billabong Pro Tahiti presented by Air Tahiti Nui runs Aug 20 - 31. The world's best surfers will battle it out for points towards the 2011 ASP World Title as well as those looking to survive the August rotation. Going into the event Owen Wright sits at No.7 and Adam Melling sits at No.33 on the 2011 ASP Mens World Ranking.
Surfline are calling for a favorable storm track in the Southwest Pacific which will likely set up fairly solid surf for most of the first week of the contest waiting period, with a good chance for overhead to well overhead waves on the larger days. Conditions also look favorable, at this point, for at least the first few days of the waiting period.
Owen starts in Ht 7 vs Heitor Alves and Kai Otton. Adam starts in Ht 8 vs Parko and C.J. Good luck fellas.
Anthony Walsh finished equal third in the Air Tahiti Nui VonZipper Trials and just missed out on main event wildcard qualification. Walsh looked on track for a finals berth after the Teahupo'o specialist pulled off a Houdini act in his opening heat. Penalised with a paddling interference in the first few minutes he rallied to register the highest individual wave score of the day - a near perfect 9.8 and advanced in second on a two-wave combined heat total of 13.42 points.
Walshy's momentum ran out when it counted most however, going down against Ricardo Dos Santos in their semi. So close mate.
Walshy missed the wildcard by a bee's dick. Photo Billabong.com
Free surf warm up day today in perfect 4' - 6' Chopes.
Adam and Owen both finished 3rd in tough heats in round 1. Unfortunately they have drawn each other in round 2. Good luck fellas. Watch full heat replays with the Heat Analyzer here
Owen racing. Photo ASP
Update August 22nd - 25th
Lay day today. Plenty of swell coming. Check out the latest news in the vid below
Lay day today. Conditions were not as ideal as expected today.
Owen defeated Mello in gnarly conditions today in round 2. When competition resumes he surfs against Teahupoo with Taylor Knox. Good luck mate.
Image ASP
Image ASP
Lay day 20'+ tow session . Epic
Anthony Walsh charging
Anthony Walsh charging
In round 3 Owen dusted Taylor with a heat total of 16.80 ( 9.80 and 7.00 ). In round 4 Owen rode a big perfect Chopes pit that looked to be a 10 no worries but was under scored with a 9.77. Next wave he took off really really deep and made an incredible tube to score a 10. Amazing surfing Owen , you deserved a 20 total mate. Owen surfs next in the quarters v Raoni Monteiro . Good luck.
image ASP Kirstin
Owen Wright finished 2nd today in the final vs Slater. He easily accounted for Raoni Monteiro in the quarters with a 16.74 heat total. In his semi vs Travis Logie Owen nudged perfection again with an incredible 19.50 ( (.8 and 9.7 ) heat total. He started the final with a couple of decent scores but Slater got to work with a 9.50. Owen answered back with a 9.27 and then Old Baldy backed up with a 8.93. With time winding down Owen dropped into a bomb only to have Slater , with priority , go over the falls in front of him. Unfortunately for Owen the hooter went before another set arrived and he finished 1.33 points behind Slater.

"I thought it was an incredible Final. We both got really good waves and I felt like I did what I needed to on them. Kelly just happened to find ones that opened up a little better. Congrats to him, and hoping I can get him in the next one."

Owen now moves to No. 5 on the ASP World Title Rankings. Congratulations mate.

Image ASP KIrstin
Image ASP KIrstin
Local time at the end of the road is -