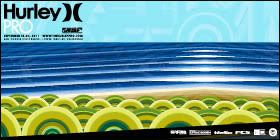 Hurley Pro runs September 18th - 24th at Trestles,California. Adam Melling is frothing after being called up for the event following the withdrawal of Dane Reynolds. Mello will meet Taj and Davo in Ht 3. Still pumped from his win in New York, Owen Wright surfs in Ht4 vs Pat Gudauskas and a wildcard. Good luck fellas
SURFLINE OFFICIAL HURLEY PRO FORECAST
We aren't expecting any major surf through the contest waiting period, but a series of small south-southwest and south swells will show best from the Sunday through Wednesday. The last couple days of the waiting period look likely to see small leftovers.
Mello was ripping in his round 1 heat Taj got the nod in the small swell. Adam surfs next in Ht 4 vs Damien Hobgood. Owen had a come-from-behind victory on his last wave with a series of air reverses and forehand wraps and moves straight to round 3.
"I had a bit of a battle out there. I'm pretty happy to have made it through this first round because I haven't won a Round 1 heat in awhile. I really had nothing going on for me coming into the last five minutes and that wave really didn't offer much at all and I just had to milk it as much as I could. I just caught the score so I'm pretty wrapped."
Owen. Image ASP
Image ASP
Mello went down to Damien Hobgood by 0.43. Bugger.
Another good day at the office for Owen today. In round 3 he defeated Jon Jon with airs and precise power surfing. In the all goofy round 4 heat Owen put on another great display of precision surfing and moved into the quarters - again.
Image ASP
Image ASP
Another exceptional days work for Owen today. In the quarters he tied with Mick Fanning but progressed. In the semis he beat Julian Wilson after an interference on the opening ride. In the end though Owen would have still won without the benefit of the score deduction. The final was vs Slater again. This third consecutive Final bout marks a first in ASP history, as no two competitors have faced off in three successive ASP Dream Tour Finals. The heat went down to the last wave for each surfer with Old Baldy getting the nod. Owen had a chance to land a backhand reverse on Slater's melon toward the end of the final but he decided not to decapitate the 11x Champ. Next time Owen.

"I've been enjoying the rivalry. We've had some great heats and the last three finals have been great. I'm glad the sets came through at the end. It was a bit of a dud final but I'm glad that last exchange came though at the end. It made it exciting."
Slater throwing some spray after the final. Image ASP
No.1 and No.2. Image ASP
Local time in the U.S is -