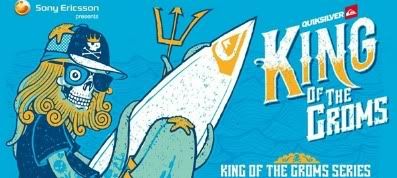 Quiksilver King of the Groms 2011 runs in conjunction with the Quiksilver Pro France October 4th - 13th. Winners from each of the regional events held in Australia, Brazil, Tahiti, Europe, the U.S. and in other countries throughout the world have qualified for the prestigious global final. Mikey Wright will be competing as one of the Aussie qualifiers. Good luck mate.
Mikey finished 2nd in round 1 with wave scores of 6.27 and 8.57 and surfs next in Ht 6 round 2 vs Mihimana Braye from Tahiti.
Mikey and Owen pre heat chat. Image Chauche
Mikey won his round 2 heat vs Mihimana Braye with a heat total of 12.50 to 9.73. In the non elimination round 3 Mikey scored an interference and finished 3rd. Mikey couldn't find the bombs in round 4 and finished the event in 9th.