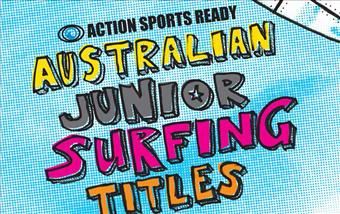 Action Sports Ready Australian Junior Surfing Titles presented by Soundwave runs November 27th - December 3rd in Coffs Harbour. Mikey Wright will be there chasing the U 16 Aussie Title. Good luck mate.
Mikey destroyed his opponents in round 1, comboed them with a 17.75 ( 9.00 and 8.75 ) heat total.

"To win an Australian Junior Title would be pretty special, there's heaps of past great surfers who have won them and I'm super keen to get to the world junior titles next year so this event is important to me".

"Today's waves were fun but really I'm hoping for bigger surf later this week for the finals – bigger waves allow a lot more scope for big moves and I think those conditions suit me best."
Mikey . Photo Surfing Australia
Another great day for Mikey today with wins in the quarters and semis.
Mikey Wright has won the U16's Aussie Title. Mikey and Jacob Wilcox went wave for wave in a dynamic shoot-out but Mikey took the narrowest of wins on 16.15 to Wilcox on 16.05. Congratulations grom