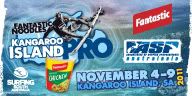 Fantastic Noodles Kangaroo Island Pro runs November 4th - 9th on Kangaroo Island in South Oz. Stu Kennedy, James Wood and Stephen Walsh are all in the event. Good luck fellas.
A great start to the event with the fellas all posting heat wins in 2 – 3 foot waves at Vivonne Bay and moving into the round of 48.
Stu and Woody both posted solid wins in the small offshore conditions in round 2 and moved into the final 24. Walshy surfed good but couldn't find the higher scores in the tiny surf and finished in 37th taking home $1200. In the round of 24 Stu had no keepers until 6 mins to go when he loaded up a 15.16 total in about 90 seconds to secure the win. Woody also kept things on track with another win. In the round of 16 , with a dying swell and really inconsistent conditions Stu had a good go at it but fell 0.67 points short. He finished the event 9th with 920 points. Well done Stu. Woody surfs next in heat 7 round of 16. Hope the swell picks up .
Layday.
Woody surfed a great heat and was only let down but some odd judging. He finished the event in 9th. Well done mate.