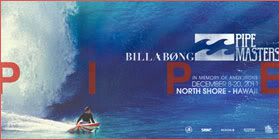 Billabong Pipe Masters in Memory of Andy Irons is set to unfold from December 8th through 20th with a big swell looming on the horizon for the opening day of the waiting period. Adam Melling will start in Ht 8 of round 2 and Owen Wright will surf in Ht 9 round 3. Gladly this should be the last event that Mello has to rely on injury withdrawal to get a start. Mello loves big pits and Owen has Pipe sorted so look for big things from the boys. Good luck fellas , it's going to be epic.
"We've got 10-to-15 foot surf at Pipeline this morning with wash-through sets at second reef," Randy Rarick, Billabong Pipe Masters Contest Director said. "This is the biggest surf we've had in the memory of the event."
A good 40 minutes at Pipe for Mello today. He stayed busy taking off on anything that came near him and towards the end of the heat getting into a bomb that gave him the win.
"It's pretty exciting to be in second and have John John just in front of me. Seeing the way he surfed out there today I'd say it's not going to be easy to beat him. I'm just excited to be out there and making heats."

He surfs next in Ht 8 vs Michel Bourez .
Image ASP Cestari
Image ASP
Image ASP
Unfortunately both Adam and Owen were eliminated in round 3. Adam lost the lead with 2 minutes to go in a very close heat. Owen traded pits with Evan Valiere but the Hawaiian got the nod.