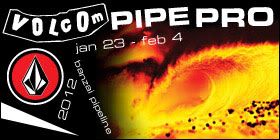 Volcom Pipe Pro 2012 runs Jan 23rd - Feb 4th at Pipeline on the North Shore of Oahu. Anthony and Stephen Walsh are over there to charge some big pits. Good luck fellas.
Anthony was had a solid win in round 1 and moved into Ht 9 round 2 with his bro. In round 2 both Walshys charged and at one stage even split a peak at Pipe together with Anthony finishing 1st and Stephen 2nd.
.
Anthony Walsh was charging macking Pipe in the most stacked heat of the round but was narrowly eliminated. Stephen was unlucky to be stuck in a heat that was dominated by massive clean up sets and was also eliminated
.
Local time in the Islands -