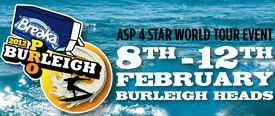 Breaka Burleigh Pro , ASP 4 star World Tour event, runs February 8th - 12th at Burleigh Point. Adam Melling , James Wood and Stephen Walsh are in the event. Good luck fellas.
Walshy and Woody both surfed well in their round 64 heat with Stephen finishing 2nd. Unfortunately Woody fell just short of progressing in the small tricky conditions. Mello was rock solid and posted a win.
Walshy missed progressing by 0.63 points in a close one and finished 17th. Mello couldn't find a backup for his 8.33 and went down in a stacked heat finishing in 17th as well.