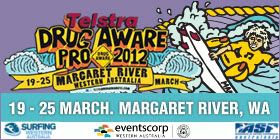 Telstra Drug Aware Margaret River Pro runs from March 20th until March 25th at Surfer's Point, Margaret River. Owen Wright, Stu Kennedy and Adam Melling will be heading west for the event. Good luck fellas.
Owen comboed the others in his first heat with some nice rail work and a sick backside air rev onto the rocks.
"It's a touch bigger out there so I took out my 6'5 board. I was going for an air on the end section and I saw a rock right there, but I thought I could do it. Then when I landed I was almost on dry reef, I'm lucky I didn't knock the fins out of my board. I'm stoked with the forecast and even today it was really fun out there. It's great to be back in Margaret River and win my heat, I lost in the first round last year."

Mello surfed a smart heat and easily progressed. No good for Stu who went down in a really tight heat only needing a 5.87 .
Photo ASP/Robertson
Owen got up close and personal with the rocks again and posted another decisive win. Mello progressed in a wave starved heat to also move into the final 24.
Photo ASP/Robertson
In the round of 24 Owen surfed a solid heat to rack up another win. Mello surfed really well with 2 waves in the excellent range to eliminate Mick. In the round of 16 Owen struggled to find his back up in the bumpy arvo conditions and was eliminated finishing 9th. Mello was also eliminated in a very close heat to finish 9th.
Photo ASP
Photo ASP