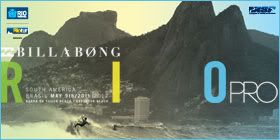 Billabong Rio Pro holds a waiting period from May 9th through 20th @ Barra Da Tijuca, Rio de Janeiro/Brasil. Adam Melling and Owen Wright will be there chasing a big result. Good luck fellas and remember to throw some sick floaters.
Update May 10th
Owen smashed it and had a comfortable win moving into round 3. Adam was ripping but finished 2nd to the local lad and surfs next in round 2 vs Wilko.
ASP Kirstin
Update May 11th, 12th, 13th, 14th
Layday.
Update May 15th
Mello smashed his round 2 heat, getting pitted off his nut. He scored the highest heat total of the round ( 17.00 ) and the highest individual wave score - 9.67.
"I was pretty happy with that one. I snuck out of that first one that was a bit of a close out and on my way back out that other one doubled up real well and ran off. I was stoked to get that one on the way back out. It was sucking out off of the bank pretty well. It feels really good to get good waves in a heat. They're definitely out there."
Unfortunately Owen was a victim of the fickle conditions and was bundled out in round 3.
ASP Kirstin
ASP Kirstin
Update May 16th
Mello couldn't find his way out of the shifty pits today and went out in a close one finishing 13th.
Heat Analyzer here
Click here to go LIVE
Local time in Rio -