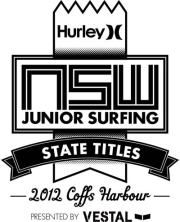 Hurley NSW Junior State Surfing Titles Presented By Vestal Watches runs July 25th - 29th at Coffs Harbour. Sam Morgan is in the U18's, Zac Wightman, Jake Snellgrove and Regan Martinovich are in the U16's. Luke Condon and Mikey McDonagh surf in the U14's and Eli Carr is in the U12's. Good luck fellas.
Sam Morgan was the only Le-Ba surfer up today and he progressed in 2nd place into round 2.
A mostly good day for the Le-Ba groms today with Zac and Jake both posting wins and moving into round 2. Regan came second in his heat and also made it thru to the second round in the U16's. Unfortunately Sam bowed out in round 2 of the U18's
Jake made the semis and finished 7th today at the NSW Titles. Zac and Regan both made the quarters and finished eq 9th. Congratulations groms
Le-Ba U18 Girls Steph Single and Cali McDonagh smashed it today with both making the semis set for tomorrow and Steph picking up the Hurley Wave of The Day with a 10. She backed up the 10 with a 9.83. That's incredible Steph. Mikey had a win and also Luke Condon progressed into the U14 quarter finals but unfortunately Eli was eliminated in the U12's.
Cali photo Surfing NSW
Le-Ba U18 Girls Steph Single and Cali McDonagh both made their final with the girls finishing 1st and 4th respectively. Congrats Steph NSW State Champ. Luke made the semis and Mikey made the quarters of the 14's. Well done groms.