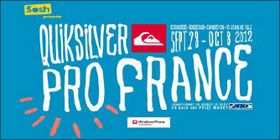 Quiksilver Pro France, stop No. 7 of 10 on the 2012 ASP World Championship Tour runs Sept 28th - Oct 8th at Hossegor's La Graviere, France. Owen Wright surfs Ht 9 vs Michel Bourez and Matt Wilkinson. Adam Melling surfs Ht 10 vs Jordy Smith and Heitor Alves. Mikey Wright will be there for the King of the Groms .Good luck fellas.
Update Sept 28th
Owen couldn't quite fit his Avatar rig into the small pits in the diminishing swell today and will surf in round 2. Young Michael fully smashed it in round 1 of the KOTG. Mikey had a comfortable heat win and the highest heat total of the day . Love ya work Grom
Mikey image @Rabejac
Owen image @Rabejac
Update Sept 29th
Layday
Update Sept 30th
A bad day at the office for Mello today. He surfs next in round 2 vs J Dub. Mikey smashed it again and is into the quarters of KOTG.
Update Oct 1st
Mikey was dominant in the quarters and semis, cruising into the final.
Update Oct 2nd
Owen had a buzzer beater win in round 2 but never looked in doubt in the heaving French beachies. Mello was sent out in a twilight heat and despite charging the biggest pits couldn't find the scores to progress. Mikey dominated his KOTG final and is now the KOTG International champ. Congratulations Mikey.
Update Oct 4th
Owen had a comfortable win in round 3 with Freddie P. In the non elim round 4 he couldn't find a back up and moved into round 5. Unfortunately the same thing happened against Medina where Owen had an 8.00 but no back up. Owen finished the event in 9th.
Image Bravo
Image Bravo
Click here to go LIVE
Local time in France -